China-Pakistan Economic Corridor will stabilize region, says ambassador
作者: 来源: 时间:2016-8-26 13:37:26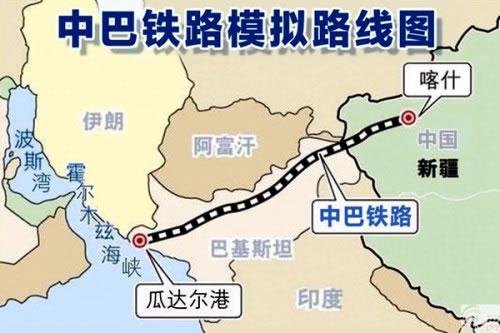 Pakistan's Ambassador to China Masood Khalid has reiterated his country's commitment to the success of the China-Pakistan Economic Corridor (CPEC) and said that both countries were working to develop conditions for its successful completion.
巴基斯坦驻华大使马苏德.哈立德再次表达巴方将会全力促进中巴经济走廊建设的意愿,并表示双方一直在为此项目的顺利完成积极创造条件。
The ambassador expressed his views during a speech at a seminar on the topic "The broad future of China-Pakistan Economic Corridor" organized by the China Overseas Investment Union, in the context of One Belt One Road initiative, in Tianjin on Tuesday.
中国海外投资联盟于本周二在天津组织并召开了一场研讨会。本次会议以"一带一路"倡议为背景,以"中巴经济走廊的广阔前景"为主题。巴基斯坦驻华大使在会议上针对此主题发表了相应观点。
"From the lofty terrains of China to that of Central Asia, the Middle East and Europe, this revival of the fabled Silk Road will bind communities and economies together. We are fully aware that CPEC is first in a series of projects linking countries and regions and are thus committed to realize it," Khalid says.
哈立德表示,"纵观中国的巍峨地形,再扩展到中亚、中东和欧洲地区,这条复兴的丝绸之路将会把这些地区的社区和经济紧密联系在一起。我们充分意识到,中巴经济走廊将会是首个将国家和地区紧密连接的项目工程,因此我们将致力于此项工程的建设。"
The CPEC is a 3,000-km network of roads, railways and pipelines to transport oil and gas from southern Pakistan's Gwadar Port to Kashgar city, northwestern China's Xinjiang Uygur autonomous region.
中巴经济走廊起点在中国新疆喀什,终点在巴基斯坦瓜达尔港,全长3000公里,是一条包括公路、铁路、油气通道在内的贸易走廊。
The ambassador said CPEC was an agenda for mutual prosperity of both Pakistan and China and the wider region. It was a recipe for economic development, enhanced trade and energy security and critical for peace, prosperity and well-being of the people of the two countries, the region and the world. He termed it a model of win-win cooperation for all the countries in the region.
大使表示,中巴经济走廊有利于促进中巴两方相互繁荣,同时带动更广大地区共同发展。它是经济发展的秘诀所在,加强了贸易和能源安全,同时也是提高两国人民生活水平,促进区域及世界各国和平及繁荣的关键一环。
"CPEC thus has the potential to transform the entire region into a stable, prosperous, peaceful and vibrant region,' he said.
他表示,"中巴经济走廊将会使整片区域变得愈加稳定、繁荣、和平并且充满生机。"
He said the government of Pakistan has created a conducive investment climate including easy tariff structures and liberal policies on repatriation of profits.
他表示巴基斯坦政府已经创造了较为有利的投资环境,其中关税结构变得较为简单,利润汇回政策也相对自由宽松。
With military action against terrorists, the security situation had considerably improved and specific measures had been taken in regard to safety of the Chinese workers, he said, adding that he was confident the measures would guarantee the long-term success of the China-Pakistan Economic Corridor.
大使同时提到,随着当前针对恐怖分子的军事行动增多,安全局势大有改善,保护中国员工的相关具体措施也都陆续实施。他还补充道,这些措施定能为中巴经济走廊的长期成功保驾护航,对此他信心满满。