Pak China Investment
作者: 来源: 时间:2016-8-29 10:37:08
Trade between China and Pakistan has a long history. After Pakistan FTA formally implemented, the total bilateral trade improved rapidly, with the continuous progress of China-Pakistan Economic Corridor, cooperation will be further expanded in the field of bilateral investment.
Pakistan has a very broad potential for development. Pakistan is not only one of the world's large cotton-producing countries, but also one of the main wheat and corn producing countries. Vast agricultural and energy potential of Pakistan provides a basis for the mutual economic and trade cooperation. China and Pakistan bilateral economic and trade cooperation has an important and positive significance. The people of Pakistan has positive attitude towards Chinese companies and the traditional friendship between China and Pakistan has provided us with a very good market environment. Chinese enterprises should cherish very friendly people of Pakistan towards China, should focus on improving quality, technology, brand and service as the core of the business competitive advantage, should not try to place "somewhat spoiled". The profound friendship between the two countries is a "willful" capital.
China and Pakistan has to cooperate closely not only at the government level, but also at the grass root level because the people of Pakistan cherish friendship with China. Pakistan, therefore, is able to meet the needs of Chinese investors in all aspects of socio-economic arena and the bilateral mutually beneficial economic and trade cooperation bears very broad prospects.
Firstly, the 2014-15 fiscal year, the bilateral trade features:
(A) Expansion of the scale of bilateral trade, the rapid growth of Chinese exports to Pakistan.
According to Pakistan Bureau of Statistics, for the 2014-15 fiscal year, the bilateral trade volume was $12.2 billion, i.e. an increase of 22 percent over the previous fiscal year. Whereas, Pakistan's imports from China were of total worth $10.1 billion, an increase of 33%; while exports to China were of total worth $ 2.1 billion, a decrease of 12%.
Bilateral trade has a very small proportion relative to the size of China's total trade, it accounts for less than the proportion 0.5 % of China's total foreign trade. However, Pakistan's business occupies a very important position in Pakistan's foreign trade. At present, China is Pakistan's largest trading partner, China-Pakistan trade volume accounted for 17.5% of total foreign trade of Pakistan. Meanwhile, China is Pakistan's largest source of imports and second largest exports destination, accounting for 23% and 9% of imports and exports of Pakistan respectively.
Figure 1: bilateral trade volume over the past three years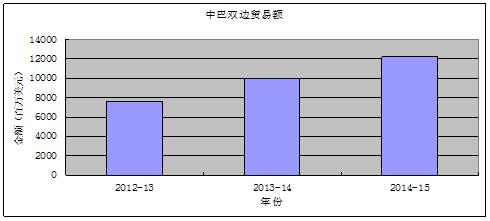 (B) The business structure is highly complementary, Pakistan export low value-added products.
China and Pakistan are at different stages of industrial development, trade products are highly complementary. Pakistan's exports are mainly raw materials and primary products, such as cotton, rice, furs, minerals and fish products. According to Pakistani data, in 2014, Pakistan's the largest five export products are cotton and cotton products (1.5 billion US dollars, accounting for 68%), cereals (137 million US dollars, accounting for 6%), ore (92 million dollars, accounting for 4 percent), animal feed (65 million US dollars, accounting for 3%), and fur (55 million US dollars, accounting for 2%).
Figure 2: Pakistan's export structure (2014)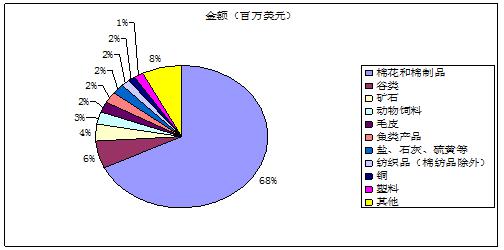 Pakistan imports products from China are mainly manufactured goods, according to the Pakistan Business Council (PBC) data, in 2013, Chinese exports to Pakistan are electrical and electronic equipment, machinery and equipment, organic chemicals, synthetic fibers, Iron and steel products, and plastics and fertilizers.

Figure 3: China to Pakistan export structure